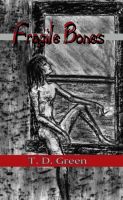 Fragile Bones by T.D. Green
Self Published, October 2011
Genre: Urban Fantasy, Dark Fiction
Format Read: Kindle
Book Description:
Abandoned on the streets as a youth, Nathan endures with quiet stoicism all the horrors that the back alleys bring. On a night much like any other, he is picked up by a mysterious stranger and brought into a whole new world where he could learn to live again.
A destiny far greater than he could've ever imagined awaits. But first, Nathan must relive all the atrocities visited upon his frail body, overcome his dark past and come to accept and love himself before he can move on.
Fragile Bones is not for the faint of heart. Enter Nathan's bleak world of torment and pain -- travel with him into the blackest parts of human nature and find with him the immutable spark within all of us that can never be quenched.
My Thoughts:
Honestly, this is a book that wasn't meant for me. The writing is beautiful and well-developed. The characters arcs are well-written and the characters grow and change before your eyes. I was captivated by the movement of the story and the exploration of Nathan's psyche. I think that the depiction of Nathan's depression and self-loathing ring very true. I enjoyed the development of the relationship between Nathan and Michael and how it changed with the growth of the characters. This is very much a character-driven story.
If you like the exploration of dark themes, human nature, and stories of recovery and redemption, this might be a book for you to try. I like my Urban Fantasy a bit lighter and brighter, so it wasn't my cup of tea but it could be yours.
Relevant Links:
Fragile Bones on Amazon